Last Updated on
Have you ever searched for online jobs that pay through PayPal? You start your search for online work with a big goal in mind, to get paid via PayPal.
This story is similar to many others. The truth is, it can be tough to find online jobs that pay through PayPal. There are a ton of different payment methods available and PayPal is not an option every time.
If you are unable to receive payment from other countries or you seek to be paid via one of your favorite payment providers, PayPal, then you are in the right place!
First of all, if you familiar with online work and internet business, then you probably have heard of PayPal already.
I have personally had my PayPal account for over a decade.
It started with opening one to pay Ebay online, various purchases I made through the marketplace and then when I started my own business, I found it necessary to have PayPal.
Why is PayPal so awesome?
Receive payments to any country in the world
Send payments to any country in the world
Get instant payments
Link to your bank account with easy
Get a PayPal debit card
And, so many other reasons!
Are you searching for any online jobs that pay through PayPal?
Check out these 19 companies that will pay you through the PayPal.
Online Jobs That Pay Through PayPal

This survey company pays via PayPal.
If you are looking for an opportunity to make money in your spare time and take your income into your own hands, Vindale is the company for you. I have personally been a member of Vindale for years now.
Check out some of my payment history:

You can earn up to $50 per survey.
Think about it, if you did one $50 survey daily, Monday through Friday, that would be $250/week or $1,000/month in income that can be paid via PayPal.
Get paid for your personal opinion taking surveys, watching videos, referring friends, and more. Not a bad way to make extra money in your spare time.
Learn more about Vindale Research and get your $1 SIGNUP Bonus for joining!
This survey company pays you for more than just survey taking. You can make money..
Watching videos
Online shopping
Playing video games
And, more!
Grab their app for your cell phone and get start getting paid!
Sign up today and get your FREE $5 Bonus.
Get paid for testing and sharing your feedback on consumer products?
Yes you can with Pinecone Research. One of the oldest and most reputable survey companies around.
They are known for their higher paying surveys. You can earn around $3 to $7 earning cashing, gift cards and getting paid through PayPal.
Join Pinecone Research to learn more.
Mindswarms pays you for video surveys.
These are video surveys and pay around $50 each.
I have done a couple of these and it was a breeze. You literally grab your cell phone and film yourself or film products, like a blender in your kitchen, for example. The surveys are pretty quick and you get a cool $50.
Step 1: Create Your Account
Step 2: Create Your Profile
It's pretty cool, you actually record a profile video.
This is super simple and they have video instructions to walk you through the process.
As people's use of video has grown over the years, self-recorded video is the new wave, providing authentic, unguarded and emotion response that marketeres are and companies are seeking.
Video is really the best way to gain a better understanding of people and so the mission of Mindswarms is to make it easy for people, researchers, and businesses to experience the lives of others from around the world through video.
Pro Tip: Sign up online and make sure to download the app for your cell phone.
This site has it all and a big favorite of many.
Get paid to shop, discover stuff online, research, watch videos, play games, take surveys and more.
You will NEVER get bored with this site.
There are so many different ways to make money.
Sign up to join Swagbucks and get a FREE $5 Signup Bonus.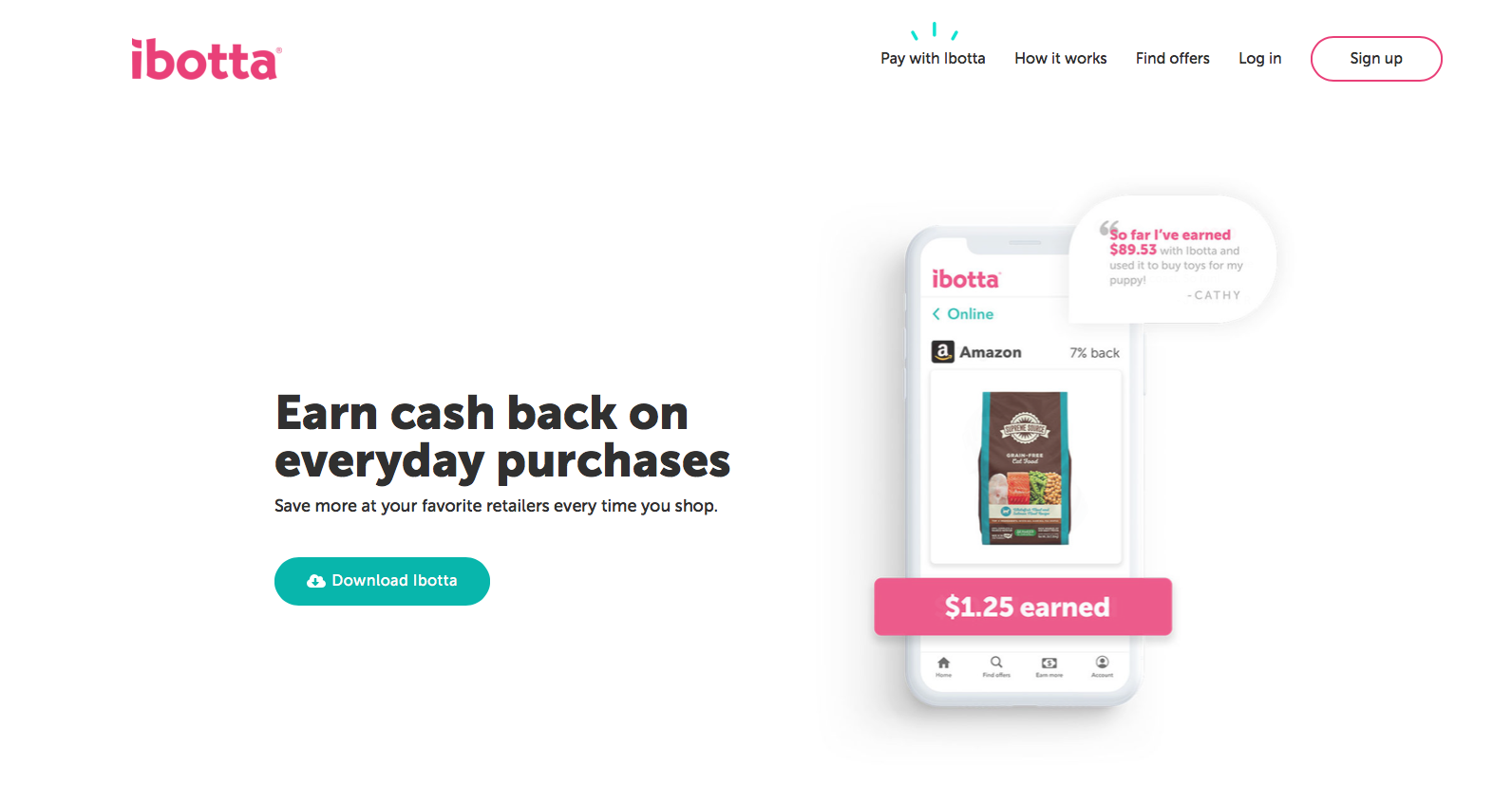 Ibotta is THE grocery shopping app. You can earn and save at the same time, in multiple ways!
If you want cash back through shopping, this app is for you.
Scan your grocery receipt for instant cash back
Scope out local deals
Refer your friends
Scanning Your Grocery Receipt
Slam dunk. You shop, then you save your receipt and scan it on the app. All the deals that are eligible score you FREE cash back!
Scope Out Sales and Deals
The app will show you grocery deals on stores and items. Then, just craft your grocery list to include these items to save big on everyday items for your grocery shop.
Refer Friends
This app is one of the MOST GENEROUS I have seen for friends and family referrals.
Love the app? Talk about it with your friends and fam. Then if they sign up with your unique referral link, you get paid!
This app pays via Paypal and you must reach a minimum of $20 to cash out.
Join Ibotta today and grab your $10 SIGNUP bonus!
Ebates is one of my absolute favorite cash back apps.
You get cashback on your online purchases!
They have partnered with TONS of retailers to help you score up to 40% cashback on your online purchases.
I referred my sister to the site a few months back and she absolutely loves it!
Pro Tip: Get the free browser extension, which activates automatically any time you land on a partner site, along with the amount of cashback you can get.
Grab your $10 SIGNUP bonus and join Ebates today!

If you find it as rewarding and exciting as me to scan your receipts for cash, then check out ReceiptHog.
Get rewarded for shopping just about anything, then snapping your receipt to earn your bonuses and cash!
Pays via PayPal.
Related Posts:
If you have skills, monetize them with Fiverr.
You can create, promote, and make money with gigs on a ton of different jobs, like:
Video editing
Copywriting
Voiceover
Consulting
Proofreading
Transcription
Graphic design
Logo creation
Business card design
And, so many more!
I have been a Fiverr user for years, as a buyer and a seller.
Even if you are skill-less, you can outsourch the work to a subcontractor.
For example, sell a social media management gig for $600/month and outsource for $200/month, keeping the $400/month profit.
Join Fiverr for free and learn more!
This is where you can monetize your skills with micro task work.
Get paid to complete small, easy jobs from clients. You have got to check out this marketplace.
Learn more and join Amazon MTurk here.
Have you ever thought about getting paid for forum posting or blog comments?
You can actually make money with this through PostLoop.
You get paid to be a virtual assistant.
It is like being a personal assistant for someone, but virtually.
VA's (virtual assistants) are a growing industry. More and more people are outsourcing their busy lives to VAs.
Here are some tasks you might do for businessowners:
Social media posting
Copywriting
Meeting scheduling
Phone answering
Email answering
Event coordination
If you are a freelancer, Upwork is the place for you.
This is a freelance marketplace where you can spot and apply for jobs in your specialty or expertise.
First, create an Upwork profile for free.
Then, build your profile. This is super simple, you just fill out the fields and post a profile bio pic.
Lastly, find jobs and submit your cover letter.
I have earned over $10,000 through Upwork, part-time.
The kinds of jobs I have done on Upwork:
Influencer outreach
Social media management
Pinterest strategy
Instagram strategy
YouTube strategy
Copywriting
Blog writing
Article writing
Graphic design
Product description writing
Amazon reviews
Pinterest management
Email marketing
And more!
Other kinds of jobs?
Proofreading, translation, transcription, video production and/or editing, web development, web design, and the list continues.
You can start earning right away, get paid on-demand, via PayPal.
Are you a writer?
Get paid via HireWriters.com
They hire quality writers to write articles and other content for their clients.
I absolutely love writing. It fuels me, it lets me paint a picture with words on paper and I have been fond of it ever since I was in a grade school. How cool would it be to get paid for a passion you have?
If this sounds like you, take a look at HireWriters to see what they have to offer.
100% free membership
Get paid up to $20 per article you write once you become established on HireWriters.com
Work and make as much money as you want (unlimited income potential)
Write about the topics you want
BONUSES: Get bonus payments from clients when you do a good job
Complete varied jobs like: proofreading, research, ideas and article rewriting
Get paid weekly, on Fridays!
They are ready to bring on writers so if you love to write, join HireWriters to get started.
Finally, get paid for data entry via PayPal.
This is a gem so check them out below!
These guys hire transcriptionists, translators and proofreaders.
Is this your sector?
What they are looking for:
The work needed requires a very high degree of skill in language, great listening skills, and ability to deal with more sophisticated transcript formats. They work with a limited and select number of individuals who meet these requirements.
They have a video to explain more. Click the link below to dive deeper into Babbletype.
Learn more and apply for Babbletype to get started.
Field Agent pays you to complete tasks around town. If you love being out and about and wanna get paid, Field Agent is for you.
Example: Check a store display at your local grocer.
Get paid via PayPal or Dwolla.
Learn more and join Field Agent today.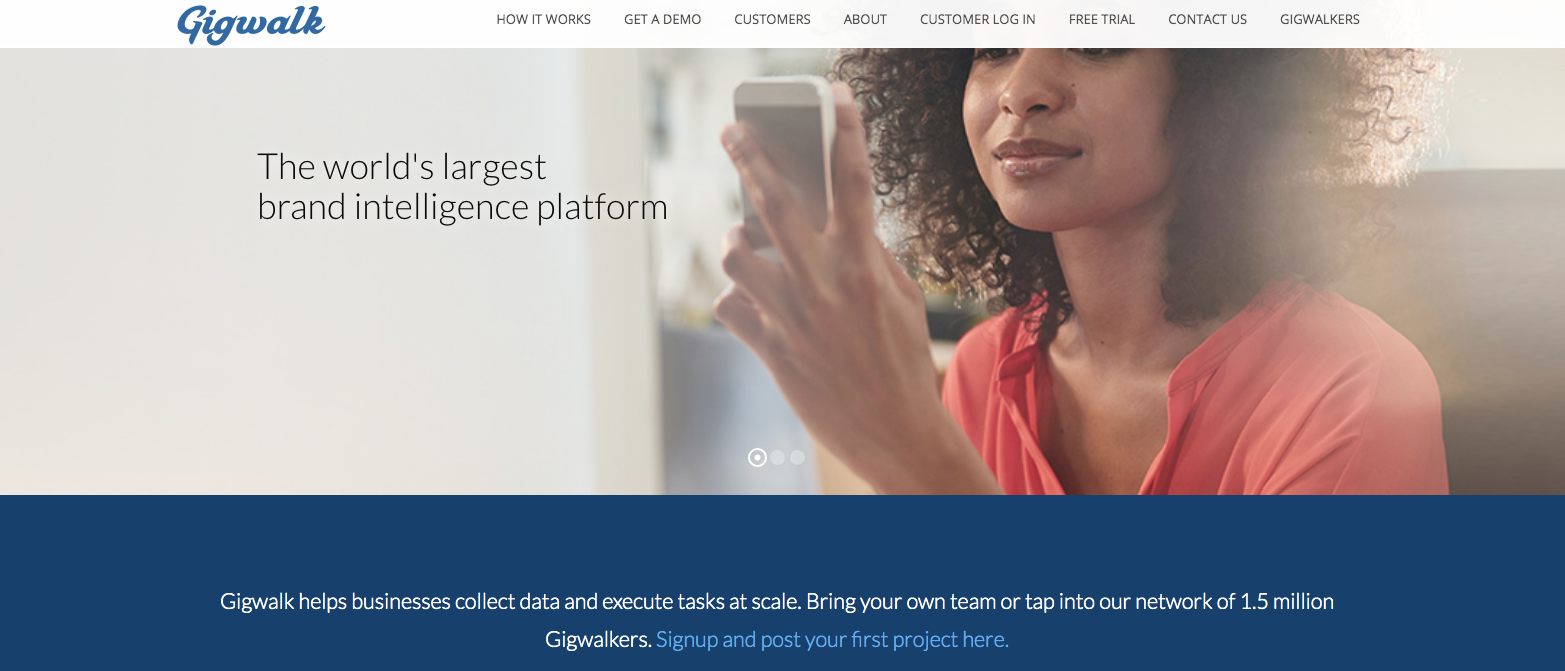 Very similar to Field Agent.
They call themselves the world's largest intelligence platform.
How to get started?
First, download the app. Available on both iOS and Android devices.
Then, register your Gigwalk account. You just answer some basic questions here and fill out your email address.
Step 3 involves linking your PayPal account so you can get paid. All payments are made through PayPal.
Lastly, find and complete gigs in your local area. To do this, you just apply for gigs through the map list or Gig List. Then, after being accepted, follow the instructions for the gig, and submit your work directly in the app.
Same kinda work tasks here as Field Agent.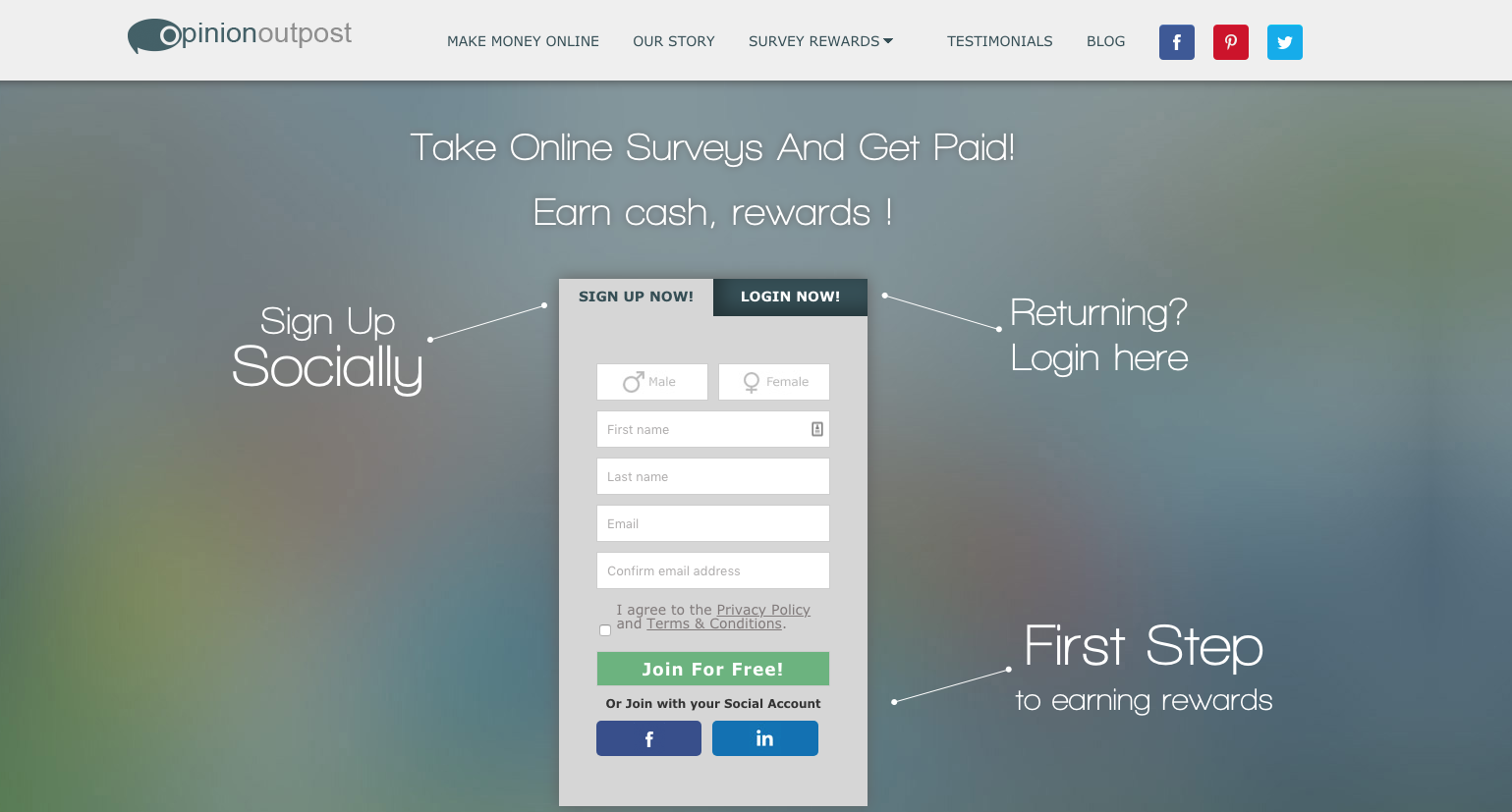 Legit paid surveys for you!
And, they pay via PayPal.
At Opinion Outpost, they are happy to provide their members the opportunity to make money online.
How many companies can say that?
Members are able to make money online, from the comfort of home, just for sharing their opinions in online surveys and fully completing them, being honest in their responses. To get started, what do you need?
Just provide:
Your gender
Your name
Your email address
Then, get started!
Online Jobs That Pay Through PayPal: What's the Deal with PayPal Payments?
We mentioned some of the perks above.
They are great for international payments.
They are great for offering a ton of flexibility. PayPal is well known everywhere and most businesses and retailers take PayPal. So whether you have a PayPal account or PayPal debit or credit card, you shouldn't have any trouble making purchases.
And, they can link to your bank account.
So in a few steps, transfer your PayPal balance right to your account or take advantage of their instant payment feature which sends the funds to your debit card INSTANTLY!
I have personally used so many PayPal features in the past.
I have sent money to people. I have received money. I have a PayPal debit card. I have used many PayPal products. I have sent money to my bank account and I have sent money to my debit card instantly.
And, I have gotten my husband to join!
They are really incredible all around.
So that is why a lot of people are looking for jobs where they can make money through PayPal.
Sometimes getting paid through your bank account or debit card or other payment method can be a real hassle. Banks take a long time. Did you know that once a creditor sends you money, it can take the bank up to 1 to 3 days just to process the money to your bank account!
In today's fast pace world that is just too long!
Imagine if you had an emergency or if you were impatient or really any reason at all. You should NOT have to wait that long to get paid.
First, you have to wait the minimum amount of time to earn your money in the first place. Then after that and you are finally ready and eligible to get paid, the payment methods are not compatible or take too long.
No go.
PayPal IS THE WAY TO GO!
Online Jobs That Pay Through PayPal: Using PayPal for Your Freelance Clients
Are you a freelancer?
Because PayPal is so popular, it is a common way for clients to pay freelancers.
So whether you are a virtual assistant, social media manager, copywriter, graphic designer or any other kind of freelancer, PayPa makes it super easy for your clients to pay you.
Did you know that they even have a free invoicing feature?
Yep!
Head to the Invoices section and create your invoice, listing the type of work, quantity, amount, your business info and email right to your client FROM PAYPAL!
Then, the client pays the invoice and you get the money straight to your account on PayPal instantly.
The Painless and Easy Way to Open Your Own PayPal Account
The process is so simple. You are gonna love this…
Go to the PayPal website and click Sign Up (page top).
You have the choice of selecting a Personal or Business account (don't worry you can change this later). If you aren't gonna collect payments as a business, pick Personal.
Fill out the required fields: your email address and create a password, then, click Continue.
Enter the required fields for signup, make sure you click "Agree" and then "Create Account."
Choose to link your bank account or credit/debit card. From here, just enter the required details and then click "Continue."
Get an email message from PayPal which usually arrives in a few minutes.
Once received, make sure to click the link in your email to confirm.
Enter your password, then click "Confirm."
Boom, you're done!
The steps are so easy you probably don't need the above instructions. You can manage your way through the process but they are there above for your reference, just in case in need more guidance.
What's Needed to Open a Personal Account
Here are the requirements for opening your personal account:
Your first name
Your last name
Address
Phone number
Email address
Final Word
There you go, my friend.
What do you think?
Lets recap these X online jobs that pay through PayPal.
1. Vindale Research
2. Inbox Dollars
3. Pinecone Research
4. Mindswarms
5. Swagbucks
6. Ibotta
7. Ebates
8. ReceiptHog
9. Fiverr
10. Amazon Mturk
11. PostLoop
12. Fancy Hands
13. Upwork
14. HireWriters
15. SigTrack
16. Babbletype
17. Field Agent
18. Gig Walk
19. Opinion Outpost
Share your thoughts down below and bookmark this post, as we will continue to add onto it in the future to grow this list of online jobs that pay through PayPal.
Best Blogging Resources to Help You Succeed
If you want to start a blog OR already blog, you have got to have self hosting with Bluehost. Not only do you get a standalone self-hosted site, that looks like this www(dot)yourblogname(dot)com instead of www.(dot)yourblogname(dot)wordpress(dot)com, Bluehost offers a ton of FREE perks like free domain, free SSL certificate and more. For under $4/month, you cannot go wrong.
Learn more about Bluehost and sign up to start getting all these perks with your blog.
This teaches you how to make money a lot of money with blog sponsorships.
A blog sponsorship is where you, the blogger, work with a brand, in a paid collaboration.
For example, you could get a pasta sauce company to be a sponsor and they'll pay you to create a recipe, write a blog post about the pasta sauce company, share with your email list or social media followers.
You will get my top tips on how to pitch brands and get paid sponsors, starting from your very first month.
Serious about making money blogging?
Check out this source and click HERE to learn more about Savvy Sponsorships for Bloggers.
This is a new way to submit your blog posts to get loads of traffic.
It's completely free and it can amp up the traffic of your blog.
RELATED POST:
How to Make Money with Pinterest Ads
I started using this tool a week ago and I've noticed a difference. It's kind of like Mix a bit.
Check it out and see what you think.
This is a paid course FYI. Within 3 weeks of starting this course, I made $800+!
This course teaches you affiliate marketing.
Havey ou been doing it all wrong all this time?
The creator makes $100K+ per month, with $50K+ per month coming from affiliate marketing alone.
She is an affiliate marketing genius.
Tons of modules to help you know the ins and outs of it all, including a behind the scenes look at how she turned one post into a money making machine, to the tune of $300K+ earned.
Check out this review on Making Sense of Affiliate Marketing.
Pinterest is THE place to grow your blog traffic. It's free to join and this social network can transform your traffic stats like overnight.
Tips to do very well on Pinterest:
Be active (This means pin daily)
Create clean, easy to read pretty pins
Follow relevant users
Create new boards often
Pin your content AND others' content
Join group boards
Get a business account
Get rich pins
Follow me on Pinterest and if you want to save a ton of time, try Tailwind's 14-day FREE trial to have them automatically do your pinning for you. It's a fraction of the price of hiring a Pinterest manager.
This ebook teaches you Amazon affiliate marketing.
Amazon Affiliates is killer because it's an affiliate program for virtually every type of blogger. Amazon has so many different products, nearly every blogger can find a product to promote. But even with that, it's tough to crack the Amazon code.
This blogger, the creator of this ebook did it, and started making $5K+ per month with Amazon Associates alone. She teaches her strategy in her book and it's only $20. Grab it before the price goes up.
After reading the book, I 10X'd my Amazon affiliate income.
Learn more about it here.