Last Updated on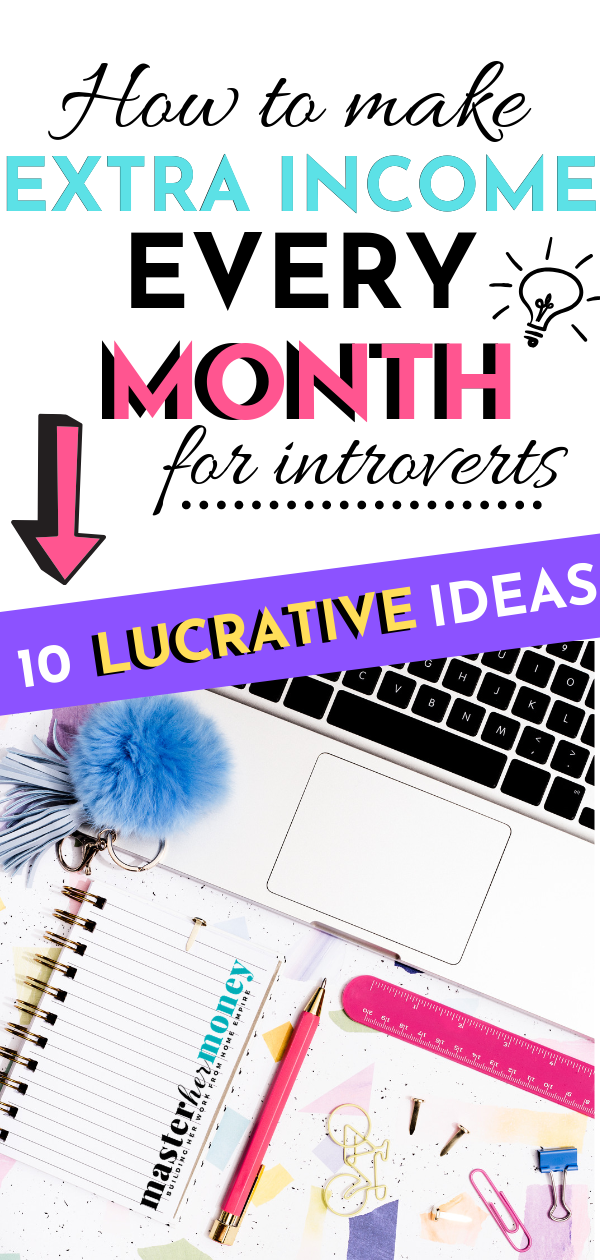 It's always nice to make a little extra income throughout the month.  Extra money can really help you go a long way, doing things like growing your savings account, paying off bills early, saving up for big purchases like vacation, a down payment to a car or house, or more. So, you want to make extra income, you're ready to get started but you are an introvert. We've got some extra income ideas for introverts ready and waiting for you (keep reading).
You are quiet, you don't enjoy networking or overly social events. You thrive working in environments where you can work independently and hone in to do an amazing job. What kinds of extra income ideas are available to you?
If you're an introvert, you may wonder if there are ways for you to make more money, that don't require an extroverted personality.
And, there is!
Keep reading while we uncover these awesome extra income ideas, 10+ ways to make extra money for introverts!
Extra Income Ideas for Introverts-Starting a Business
Starting a business is a nice way to earn extra income and it's a perfect money-making hustle for introverts.  With an online store operated on Shopify, you will get access to tons of cool features to make your store stand apart. You work with customers online, from the comfort of your home, and avoid in-person meetings, oral presentations and other extrovert-type business activities that will make you shy away. Learn more!
1. Creating Your Online Store
First, decide what you'll sell, called your niche. This is pretty important..it's the main part of your store.
Will you sell toys, electronics, kids shoes? Here's a quick list of niches to consider:
Kids apparel
Footwear
Home goods
Gifts
Jewelry
Jewelry supplies
Tools
Next, you will source your products, which means you'll do research to see where you'll get your inventory to resell to customers.
It's an important part of the process.
Some places you might find suppliers?
Ebay
Trade shows
Wholesale forums (these list wholesale suppliers that may be hard to find otherwise)
Then, it'll be time to create your online store.
#1 Recommendation: Shopify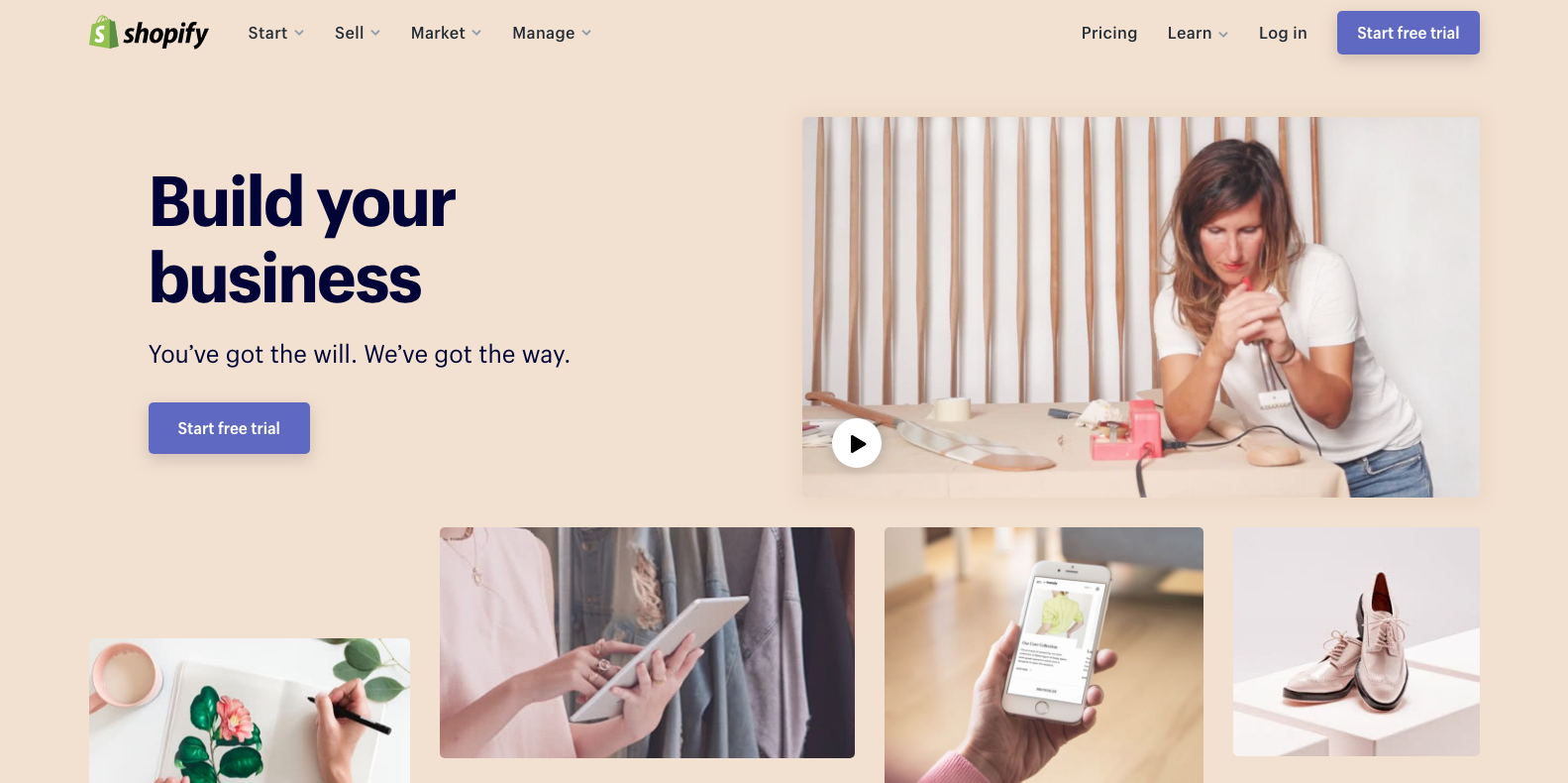 A total one-stop-shop, offering…
Professional store themes
Access to experts for help with sales, traffic, and more
Plugins that let you streamline your store, get chat bots, create FAQ pages with ease, add a toll-free phone number, and more
Learn more about Shopify and check out their free 14-day trial.
2. Freelancing
Freelancing is something I have been doing for extra money since 5-6 years ago.
It started when I was at my 9 to 5. I was curious about making extra money and making money online so I started my first hustle, copywriting. I would write for big publications like eHow and Krazy Coupon Lady. I did this off and on from then until now and I still love it.
I find freelance jobs here:
It's actually one of the side hustles that helped me earn over $8,000 last month!
These websites are free to join.
It's so easy..just register, create your profile and then start applying for jobs. Rinse and repeat to get as many freelance jobs as you'd like. Here are some examples of skills you might have that you can monetize through freelancing:
Video production
Video editing
Graphic design
Logo design
Web development
Web design
Social media marketing
Digital marketing
Voiceover
Copywriting
3. Get into Services
Get into services!
Know how to fix a/c units? Are you skilled in hardwood floor installation? Know how to do home inspections?
These are all great examples of services that you can do for extra money. And, great for introverts.
In college, a good friend of mine took up the skill of hardwood floor installation. Til this day, he still does a handful of projects during the summer for extra money. It's an invaluable skill that he learned that still serves him today!
What skills do you have?
Look at these examples…
Picture installation
Blinds installation
Window cleaning
Plumbing
Roofing repair
Lawncare
A/C Unit Repair/Maintenance
Get jobs from places like Homeadvisor, Thumbtack, or Bark.  
Extra Income Ideas for Introvert-Extra Income Apps
Extra income apps are a nice way to make extra money without having to leave the comfort of your couch. These are amazing for introverts that love to work independently on their own time.
Check out this quick list of some of our favorites!
This is a cashback app that gets you cashback on purchases you would be making anyway!
Gas up your car, get that Chinese food from the place down the street, shop at Walmart..get cashback on all of it!
Here's how it works:
Then, link your debit or credit card.
Lastly, shop! Shop at retailers that you normally would and if they are Dosh partners, you will get cash back applied to your Dosh account automatically.
It really adds up. Once you reach $25 you can cash out via direct deposit, PayPal, and other methods. Check it out!
Ebates is kind of like Dosh. You get cash back for shopping at Ebates retailers. They partner with thousands of stores so you can rack up cash pretty fast.
We recommend you get the Ebates browser extension. It will popup any time you land on a partner website, telling you how much cash back you can earn for buying.
That is literally all there is to it!
They have an awesome referral program too, earning you $25 for each referral and offering a cool $10 signup bonus.
Get paid for your old books with Bookscouter.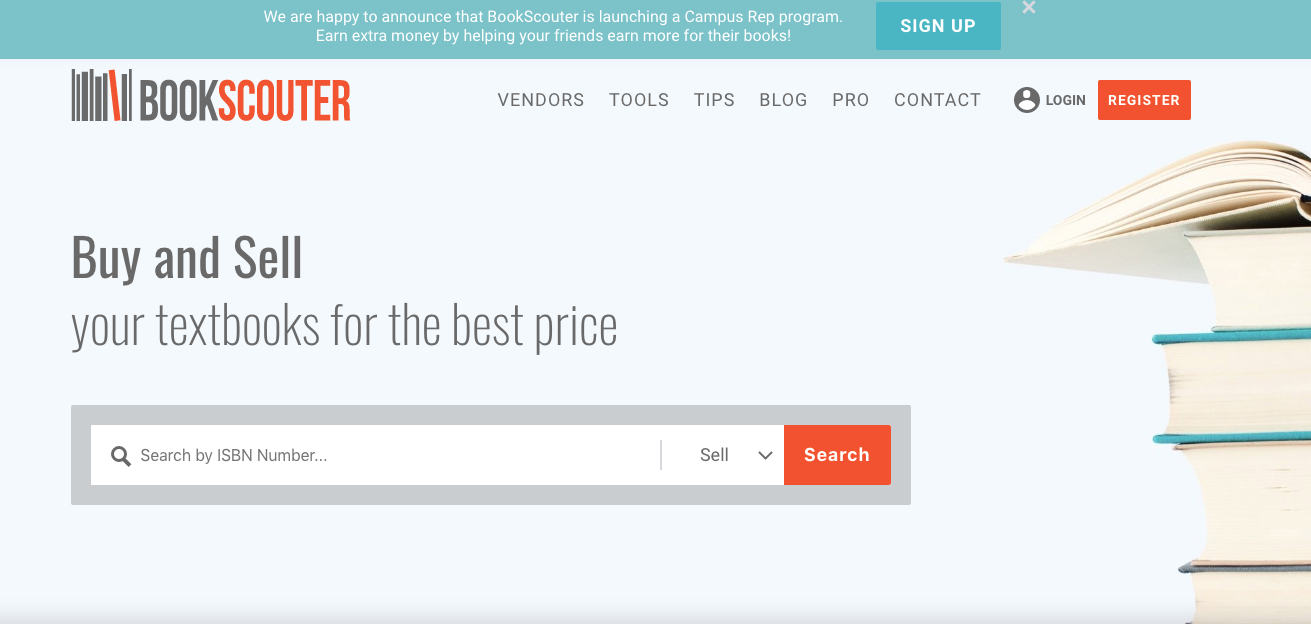 Just scan your books with the app from your cell phone and see how much cash you qualify for. Then, follow the instructions to mail your book in.
Simple stuff.
They also do a competitor comparison, showing you how much you'd get at other places so you can see right away where you'll get the best deal.

Get paid for your opinion with Survey Savvy.
Grab their Savvy Connect app and earn money passively every month while they collect data on your phone usage, in the background. It's so easy.
Their survey opportunities are plentiful and let you pick and choose what offers you want to complete. I've been taking surveys with them for years. They are one of my favorite survey companies.
Join Survey Savvy to learn more about how you can make up to $500/month or more with this legit survey company.
Read our entire Vindale Research review to get the full scoop.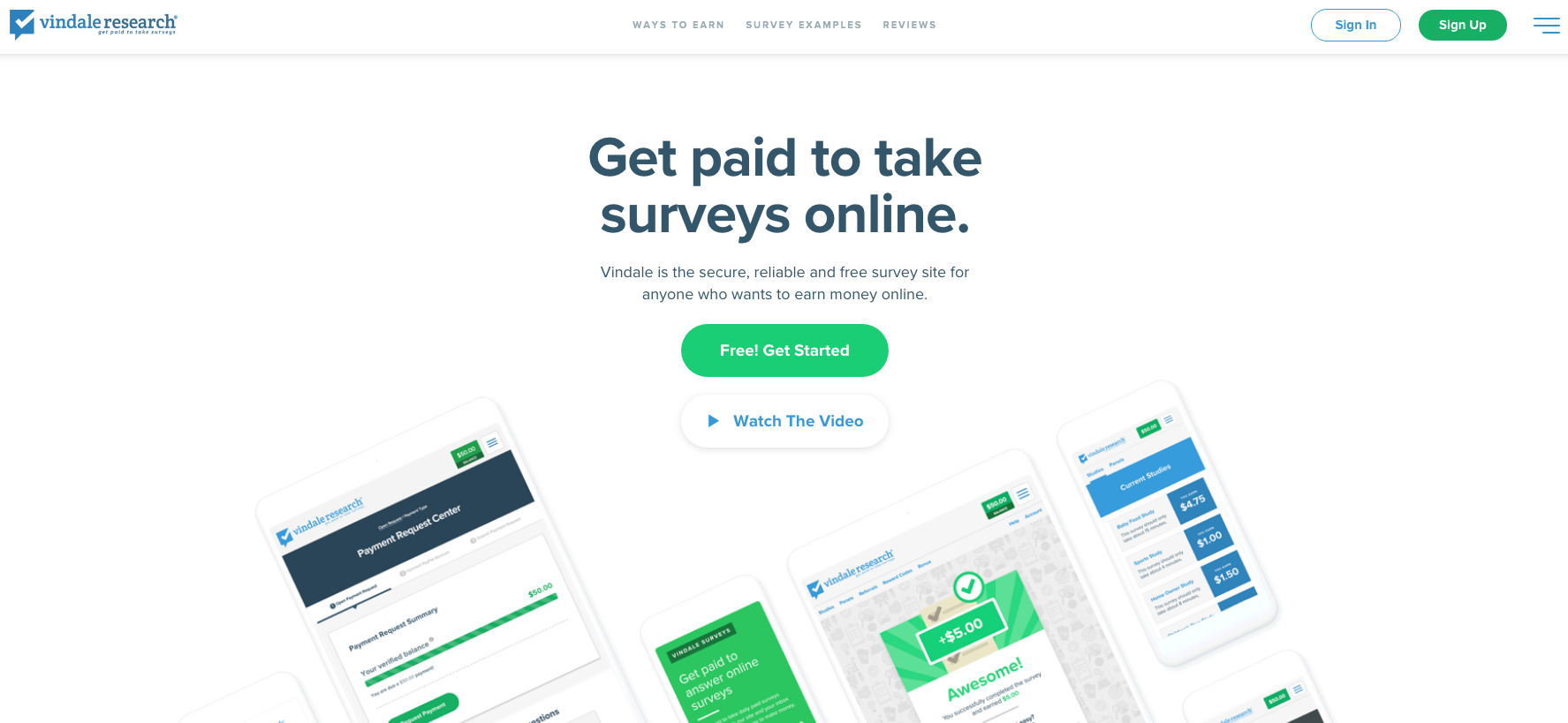 They have high paying survey offers up to $50 each!
Signup here and get a $1 signup bonus.
Extra Income Ideas for Introvert-Blogging or Vlogging
Blogging and/or vlogging! Try them both. Great opportunity here for introverts.
Blogging will let you write about anything you want online and share with the world, while vlogging captures your life on film.
9. Blogging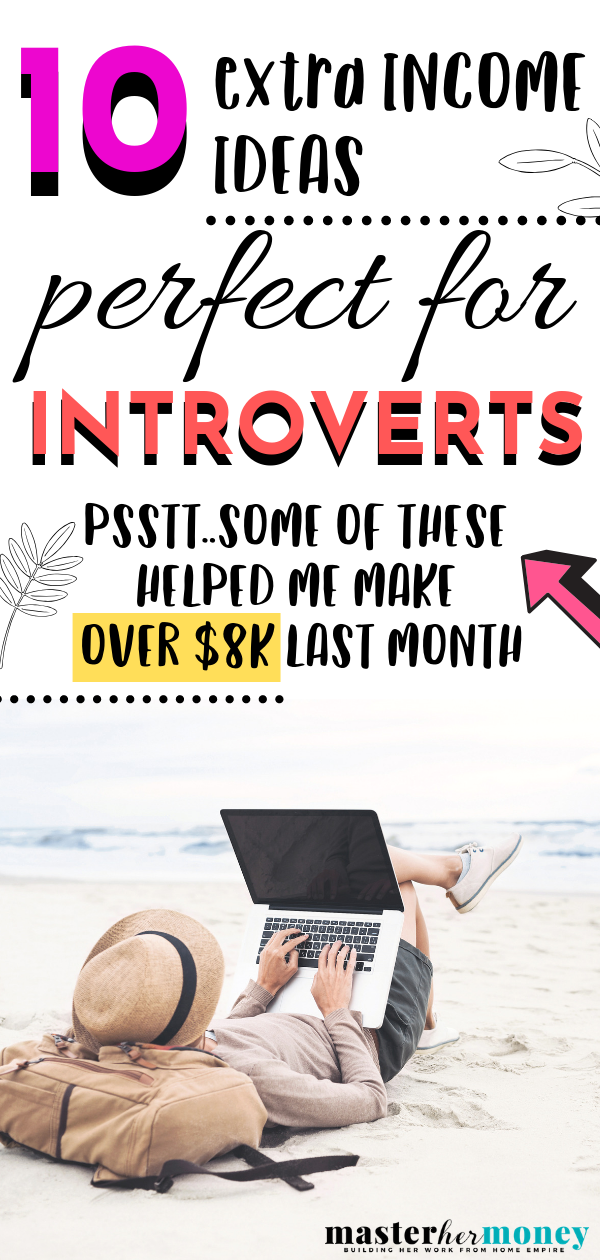 Start a blog in under 30 minutes with our favorite hosting company, under $4/month (no joke).
With blogging you'll write about a meaningful topic that will seek to solve a problem, like..
Helping college students make extra money
Helping overwhelmed moms achieve work life balance
Helping professionals make a side hustle on the weekend
Helping special needs parents homeschool their kids with confidence
Here are some examples of niches to consider:
Travel
Horticulture
Education
Speciality diets
Fitness
Food
Budgeting
Fashion
Then, you'll set up your blog then, add content.
Earn money blogging by doing this:
Advertisements
Blog sponsorships
Your own products
Your own services
Affiliate marketing
You can make money via PayPal as a playtester testing games on your cell phone with PlaytestCloud. Work from the comfort of home and test games – you can even test with your kids! You'll provide feedback that game developers need to make the game experience even better for users. Learn more about joining Playtest Cloud as a tester.
11. Vlogging
Vlogging is all about filming your life.
Examples:
Your daily life
Work life (like, a day in the life of a nurse, etc.)
Special events.
Showcase on YouTube, once you reach 4,000 watch hours and 1,000 subscribers, you can apply to get your channel monetized.
Other than YouTube ads, you can also earn through brand deals, sponsorships and affiliate marketing, through vlogging and content on youTube.
Extra Income Ideas for Introvert-Final Thoughts
What do you think?
We hope you found these 10+ lucrative extra income ideas for introverts list, both educational and useful.  Share your thoughts down below and if you have any extra income ideas to share, please let us know!