Last Updated on
Who doesn't love a prepaid visa gift card?
Prepaid visa gift cards are great and really, they are as good as cash, since Visa is accepted virtually anywhere. Some folks might even say that Visa is better than cash, since gift cards/debit cards/credit cards can give you more flexibility than cash, often times.
Prepaid visa cards are awesome for so many reasons. They are good holiday gifts, great for birthdays, baby showers, etc. My Dad has even built up a nice stash of gift cards that he uses to buy holiday and birthday gifts throughout the year!
What's more?
There are tons of ways you can get free prepaid Visa cards.
Check out this roundup of companies that pay cash, Amazon git cards, PayPal cash and Visa gift cards. Free money. Who doesn't love it? Take a look!
Springboard America is a top online survey site and they offer free prepaid Visa gift cards.
This is how it works:
For each survey offer you complete, you can earn points. Then, you redeem points for prepaid Visa gift cards.
It's super easy to earn and start stacking up your points to get your prepaid Visa gift cards. The more offers you complete, the more points you earn!
Join Springboard America here.
Prize Rebel is an online survey company where you can get paid to share your opinion on regular stuff like:
Online purchases
Everyday purchases
Spending habits
And more!
Survey taking and sharing my opinion is a favorite of mine!
Because it's so easy to make money.
While you cannot make a full time income, it's a nice side income that takes little effort and can pay you in free prepaid gift cards.
For example, you can earn 1,000 points and exchange for a $10 Prepaid Visa gift card.

Swagbucks is a popular site that people love because it's so incredibly multifaceted.
They offer so many different ways to earn points to get free Visa gift cards and cash.
You can make money with Swagbucks by:
Watching videos
Sharing your opinion
Taking paid surveys
Playing games
Discovering stuff online
Searching the web
Shopping online
And, more!
You can even earn by referring friends to Swagbucks!
Go to Swagbucks here and get a bonus $5.

Vindale Research is a survey company that has been around for a while. They always have lots of surveys available, usually $10 to $30 in offers, when I login.
They have paid me hundreds of dollars (maybe even thousands of dollars). H
ere's a screenshot from some of my recent payments.

One of the features I love from Vindale Research are their Studies.
Studies are great because they are replenishable.
You can take them over and over again.
One of them even lets you retake up to 10 times every single day.
Vindale is probably one of my favorite survey companies.
They offer higher paying surveys, in my opinion.
They also have a really neat referral program because if you are loving taking their surveys, why not refer family and friends, who want to make some extra cash, with survey taking too, right?
So, you join, then fill out your profile (by the way they are offering a registration bonus of $1 just for signing up). After your profile is complete, you'll love that you get access to the survey offers immediately.
Think about it.
If you take $10 in survey offers daily, including weekends, that would be $10×7 days a week or $70 per week.
$70 per week x 4 weeks per month =
$280/month
That's nearly $300 a month in extra cash, and just from one survey company.
Sheesh!
Seems like a no-brainer right?
And, what if you did $30 in daily offers, instead of $10. Then, triple your money, or nearly $900 a month in extra cash, just from one survey company.
Surveys will not equal a full-time income for ya, but certainly a nice side income as you can see.
They pay via PayPal twice a month and you must have a minimum balance of $50 in order to be eligible to request payout.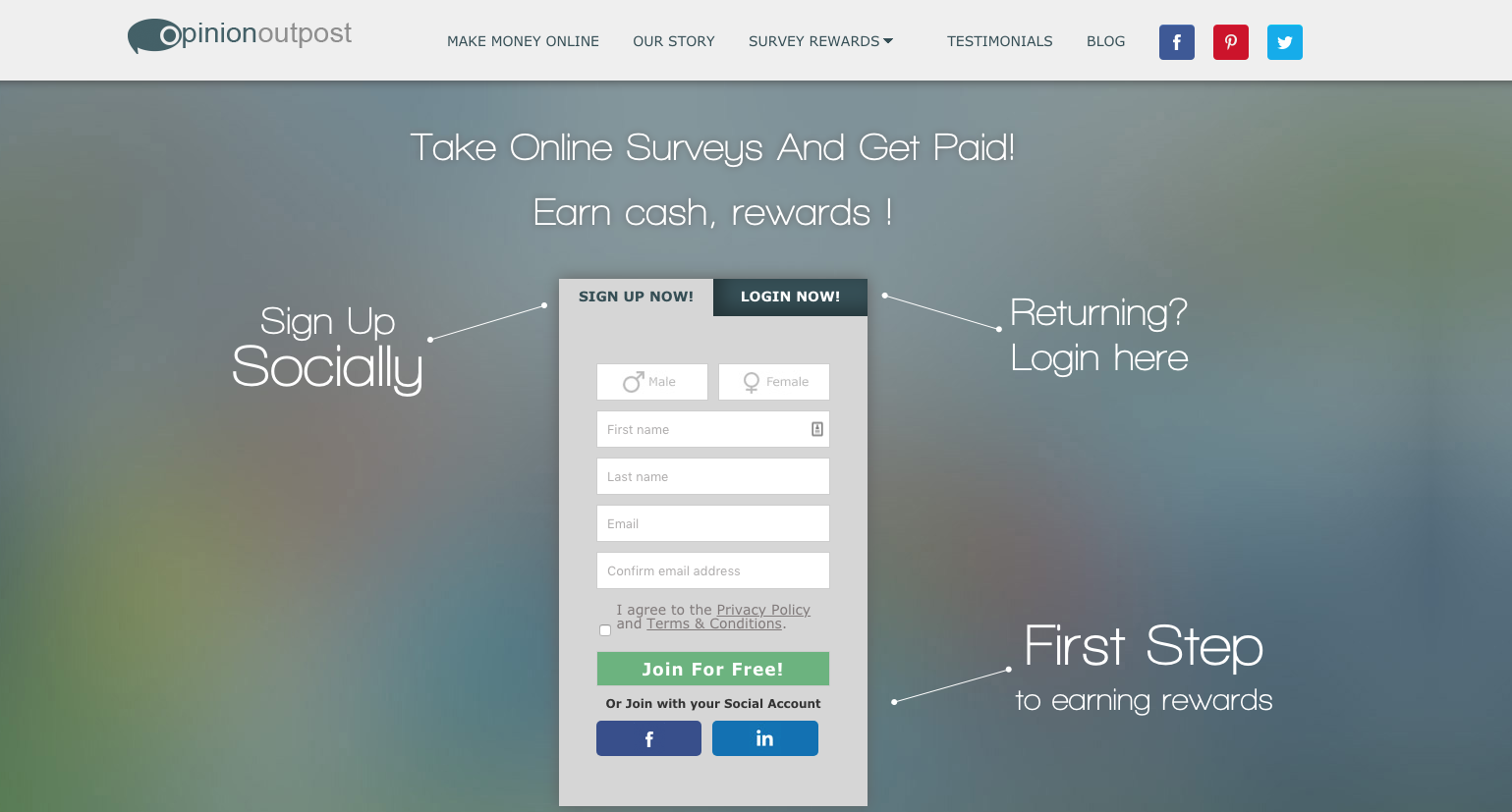 Opinion Outpost is another favorite that pays out via PayPal and gift cards. In addition, they have a quarterly sweepstakes draw open to members, where you can win $10,000!
What if you won?
What would you do?
Brands want to know the opinions of consumers. It's super valuable for them, so they are willing to compensate you for your opinion, to learn about consumer habits, what consumers wnats, product ideas, and more.
Joining Opinion Outpost is a great way to earn free gift cards and cash for your opinoin.
Live life and get rewarded, with Lifepoints.
Join here and get your first 10 lifepoints to get you started!
How it works?
1.) Connect-connect with the Lifepoints community
2.) Contribute-contribute so you can shape the future
3.) Collect-collect your Lifepoints rewards
Complete LifePoints survey offers. No special skills required. Get rewarded and get paid!
It's free to join. Grab your first 10 lifepoints and sign up here – join Lifepoints.
I use Ibotta and it's a staple app for me to save money on groceries.
There tons of ways you can use the app to save but I love scanning my receipt for cash back offers!
All you do is download the free Ibotta app, then you'll just choose the cash back offers you want, scan the barcode of the items you purchased and then just upload your receipt.
Boom! Cashback to your Ibotta account. Once you reach $20 in your balance you can redeem via prepaid gift cards, PayPal cash, or Venmo.
Join Ibotta here and a grab your $10 bonus.
GlobalTestMarket is a well known survey site, paying out of $32 million dollars to their members. You earn points for completing survey offers and truly get paid to share your opinion. Redeem points for prepaid gift cards to retailers like Amazon (my favorite) and more. You can also choose PayPal cash as a payment method.
SurveyJunkie is the place to get your prepaid Visa gift cards.
They pay on a points system and once you accumulate enough points, you can redeem for prepaid gift cards to popular retailers like Target or Amazon.
Surveys are easy to take and short.
Last on the list is InboxDollars, a company that is known to pay you to open emails. Get paid to answer polls and share your honest opinion.
Check out the email notifications you get from InboxDollars and complete offers to earn!
Grab Your FREE $5 from InboxDollars just for signing up here.
Final Thoughts
As you can see, there are a ton of different ways to earn free prepaid Visa gift cards and cash.
How to make the most money? Join as many survey companies as you can. I've already shared an example of how you can make a few hundred dollars just from one company. Imagine if you joined a handful of companies?
These are all free to join.
Enjoy!
Questions?
Share your thoughts down below!