Last Updated on
This post is going to highlight the pros, cons, advantages and drawbacks of ConvertKit, email marketing software tool. This is the last ConvertKit review that you'll need to read.
Coming from an entrepreneur that has tested at least half a dozen email marketing solutions, I'll tell you all about my thoughts, key uses and how I utilize ConvertKit in my business.
Why Use Email Marketing
Email marketing is a MUST in business. If you don't have an email list, start growing your list today!
I got a late start in this.
In my first business, I ran an ecommerce store and I grew a list of a few thousand with no effort at all. In fact, I hardly even emailed my list. I really didn't know what I was doing at all. Fast forward to today. When I email my list, I know that within the day, I can earn $XXX to $XX,XXX and that is the power of email marketing!
When I started my second business, blogging, I was super resistant to list building.
I heard about it, I read about it, but I didn't think it was all that important and it seemed pretty boring to me.
So, I started about 2-3 months after my blog launched.
Big mistake.
I wish I would've started from day one.
Now, when I start a new project or website, I start building the list from the start!
Building an email list means you can connect with your audience, build a network, share your knowledge, cultivate a following, sell to a group of loyal fans, educate, inspire, and motivate.
So, why ConvertKit?
ConvertKit Review: What You Need to Know
Simply. ConvertKit is so easy. It's built for bloggers and business owners.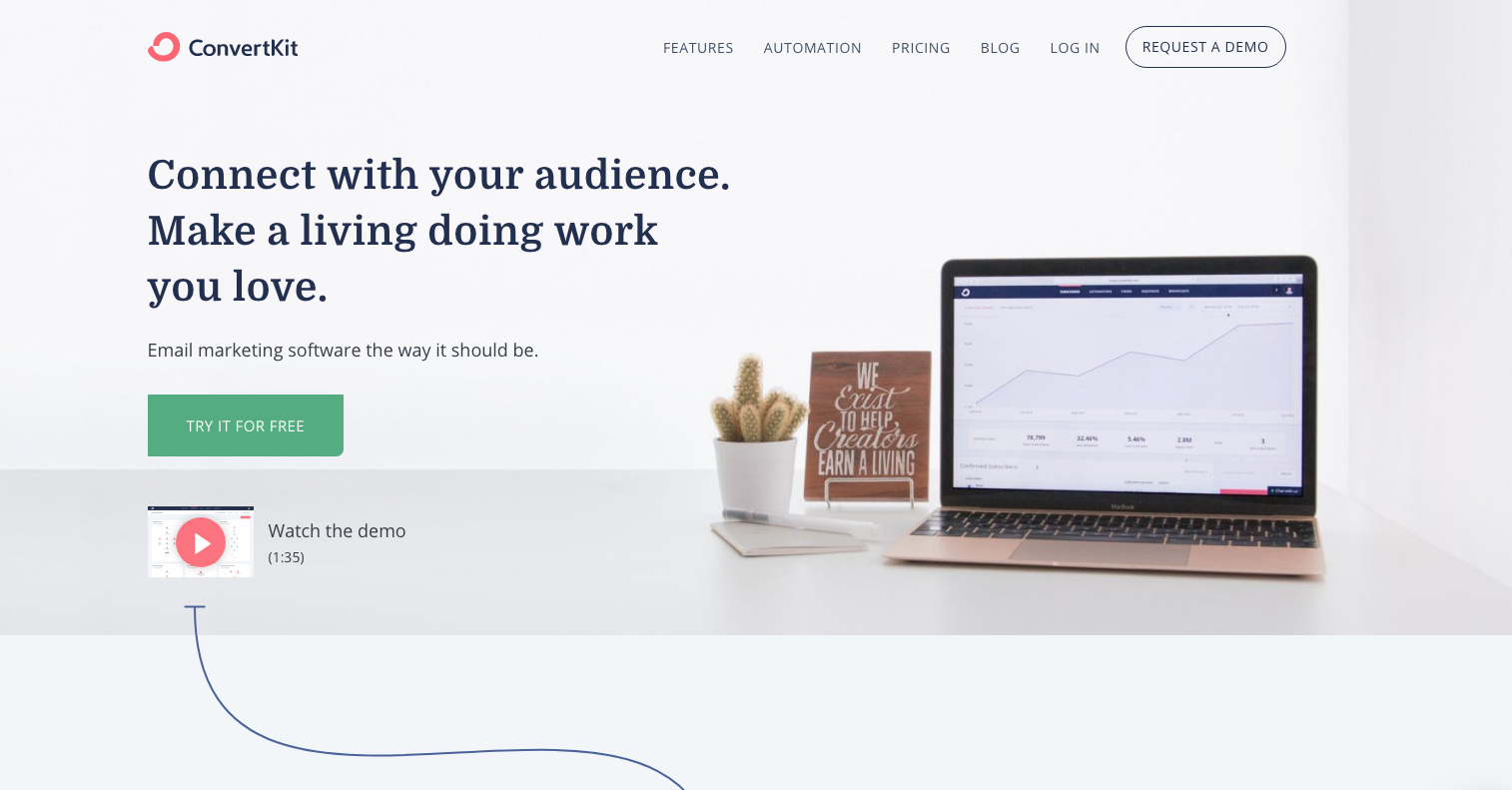 ConvertKit has the following features:
Forms
Landing pages
Broadcasts
Sequences
Automations
Reporting
Subscribers
Forms and Landing Pages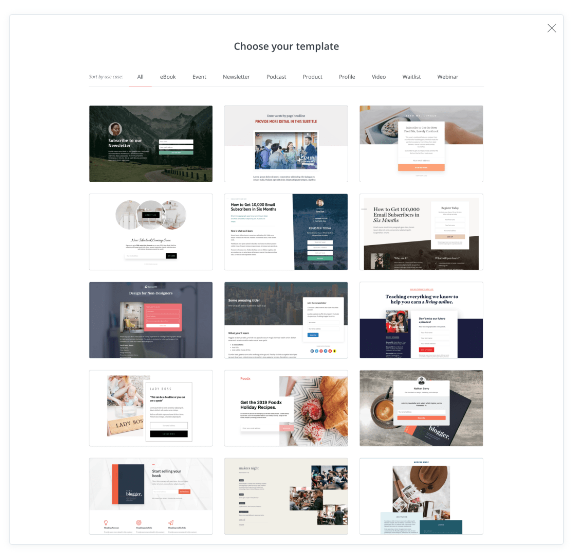 Forms allow you to place easy, attractive email forms right on your website. You can collect email opt-ins this way, while delivering lead magnets, routing the subscriber to a new page, and more.
Landing pages offer the same but in a page format, versus a form.
Both options give you an opportunity to connect with a website visitor and convert them to a subscriber.
Convertkit has a ton of different templates you can choose from to display your form.
I have dozens and dozens of forms.
They are easy to sort through, find what I need, see the number of subscribers, conversion rate, and more, for each form.
So, if you have 6 or 8 different lead magnets, you will be able to sift and sort through those lead magnet forms on your backend dashboard of Convertkit, with ease, helping you find everything you need quickly.
Broadcasts
An email broadcast is when you send an email to your list.
This can be a segment of your list, like for example, your vegan cookbook lead magnet segment, or it can be your entire list. When you set up a broadcast, you'll go through a few steps:
Pick who you're going to email (email segments or your entire list)
Title the email and write the body of the email (including graphics, links, video, etc.)
Preview the email before you send, then..
Send the email broadcast
Once it goes out, you can monitor the results in real time, to check the conversion rate, open rate, see what links were clicked, and more. It's super interesting. You can see what emails you landed and which ones bombed, to help you craft better emails in the future.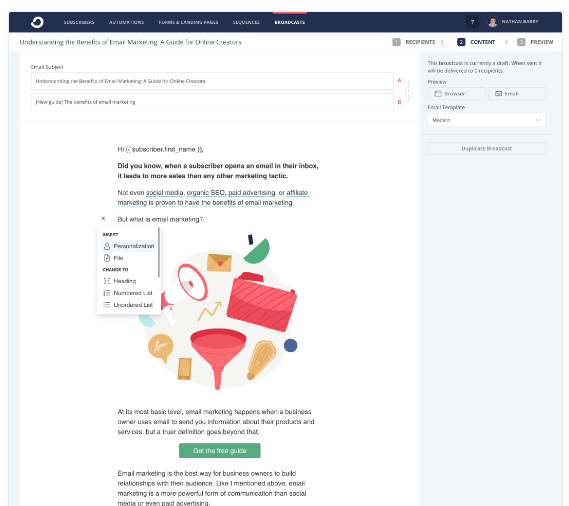 Sequences
An email sequence is a string of email broadcasts.
This is where it gets fun.
You can create an email sequence around a specific campaign, setting a number of emails to go to your list or a segment of your list, on autopilot.
For example, an email sequence I have in place is my free blogging email course.
When a subscriber signs up, they get entered into the sequence, where they receive 7 emails sent to them (on autopilot), over the course of 7 days.
This is an example of how to create and distribute a free email course.
Sequences are soooo golden.
They help you teach, nurture your list, and so many more benefits.
Integrations
You will love that Convertkit integrates with so many other tools like Zapier, Shopify, Instapage, and more. This means it can help so many business owners.
The reporting is easy to understand and uncovers trends and unique stats that you will want to get your hands on.
You can import and export subscribers super easily. The Convertkit support team is top notch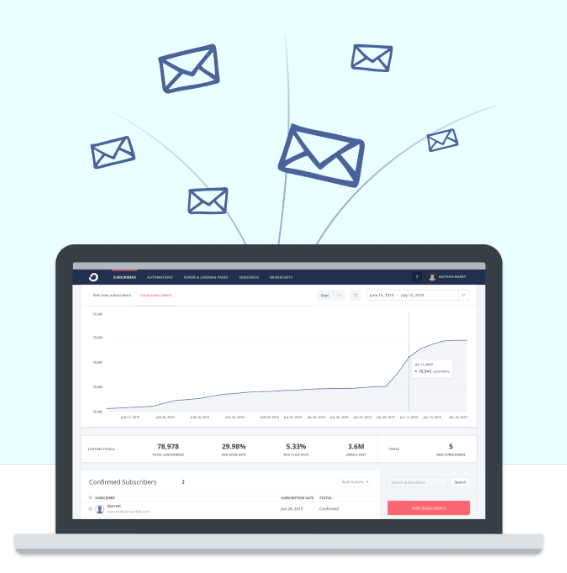 Final Word
There you go!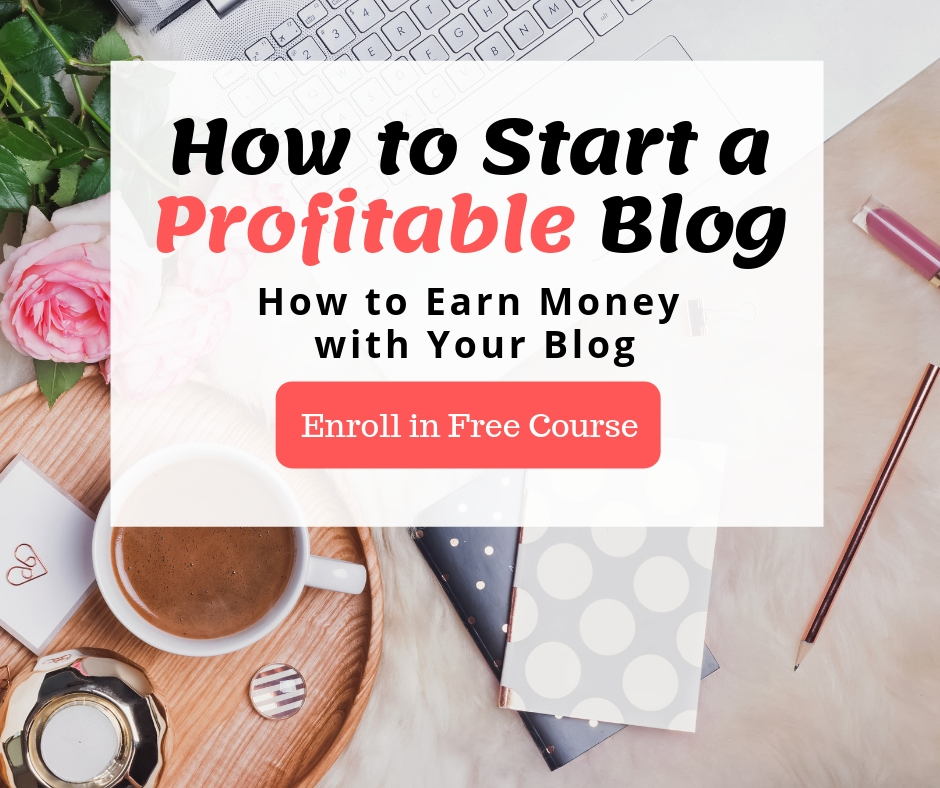 What do you think about Convertkit?
To learn more check out their FREE trial.